Better than WEN Hair Care?
Sally Beauty Supply Hair One
Jun 26th, 2010 | By
Nancy Andrews
| Category:
Best Beauty Products I Use
What's Better than Wen Hair Products by Chaz Dean?
Before I tell you what's better than Wen Haircare, let's talk about what Wen is. This is a cleansing conditioner developed by hair stylist Chaz Dean. This product replaces shampoo and cleanses the hair in a more natural process – one in which the hair is not totally stripped.
Now I have long, coarse, wavy/curly hair that I color to cover my grays. And I have to tell you, my hair was soooo damaged, I was about to cut off at least 6 inches of it just to get rid of some of the worst damaged part. But one day I was watching TV and the Wen infomercial comes on and I see the 'before and afters' which look amazing. I start wondering if this will work for me.
Of course, I'm like you. I like to research things like this before I buy them. So in searching the Internet, I read the reviews and decide this is a product that is likely to work. I'm just about ready to head over to the Wen website to order when one more review hits my eye and I have to read it. The product is just like Wen (same ingredients on the basic version) but much, much cheaper. Now a cheaper alternative to Wen sounds good to me. And I don't have to buy this on auto-ship. Now I'm intrigued – aren't you?
My Review of Hair One Cleansing Conditioner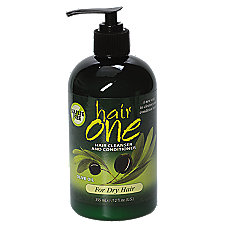 As I indicated before, I was fed up with hair that felt like straw and would go wild with frizz anytime I stepped outside into humid weather.  I kept buying new shampoos and conditioners – tried all the big name brands and none of them made my hair feel any better.
So when I found this much cheaper alternative to Wen at Sally's Beauty Supply, I was intrigued.  I ordered it and as soon as I got it I tried it.  I actually 'washed' my hair two times just to give it a good chance to get rid of all the old product I had in my hair and to condition it.
As soon as I was done, I noticed a considerable improvement in how my hair felt.  Then I used the One 'n Only Argan Oil treatment I had also ordered and WOW!  I could comb through my hair without snags and it felt so much better.
I then applied the acid test – how would it look and hold up once I styled it?  Again I was very impressed.  My hair looked as though my stylist had done it.
PROS

Rich Formula
Much Cheaper than Wen
Interesting Smell You'll either love or hate

CONS

No suds which takes awhile to get used to
$10.99 for 12oz is expensive for a hair cleansing product
Interesting Smell You'll either love or hate
There are four different versions of the Hair One cleansing conditioner:
Olive Oil for Dry, Damaged Hair
Cucumber for Normal Hair
Jojoba for Color Treated Hair
Tea Tree Oil for Dry Scalp
While I started with the Olive Oil version, I may switch to Jojoba for my next bottle.  Anyway, if you've been considering Wen Hair Care products, I strongly suggest you give Hair One a try first!
Google+